iMusic has moved to a new address!
---
It is with great pleasure that we can reveal that we have moved to larger premises. Our new address is:
Sindalsvej 36, 8240 Risskov
---
WHAT DOES THE MOVE CHANGE FOR YOU?
If you are one of our many customers who order on the website and have your order delivered, you will not experience any changes.
Order pick ups take place at our new address in Risskov. The opening hours are Monday - Thursday from 11:00 - 17:00 (CET) and Friday from 11:00 - 16:00 (CET). The phones still close at 16:00 (CET) Monday - Friday.
We still make room for a large physical store with a lot of K-pop and vinyl at our new address - we can offer up a much larger selection than before!
There is free parking at the new address, and if you are not in a car, by bike or on foot, then bus 1A has a bus stop right outside our premises (bus stop: Krogagre / Nordlandsvej)
Of course, it is sad to say goodbye to our great location right in the middle of Aarhus C, but when our packers almost trip over each other and the many parcels in our current premises, we have no doubt that it is the right decision to move to something bigger.
Last but not least, we would like to thank ALL of you who have visited us in Aarhus C over the years - you have made our 15 years here absolutely fantastic! We hope to see you in Risskov as well!
---
Route to the store on Sindalsvej 36 from the bus stop 'Krogagre/Nordlandsvej':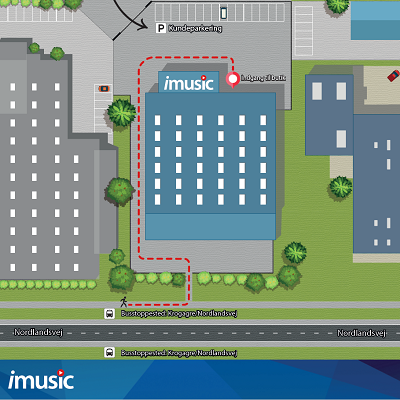 Click on the image to enlarge the image